Digital commerce
MagentoLive 2018 – Adobe Experience Cumulonimbus
by L'équipe Commerce Digital 30 October 2018
Feedback from Magento Live Europe – 2nd part
Obviously though the first talk was not enough for this year – it was very relevant in 2016 but in 2018 it feels like a late catching up, or reluctant teasing, to the demanding crowd. The following talk was more of the "back to present days" kind. I have no idea as to how they prepared it but the speakers were of different profiles and differently skilled, which made for a mouthwatering blended meatier pie.
Martin Buergi ( Senior Product Manager at Adobe ) introduced the talk and gave a fast paced, breath holding overview of Magento Cloud integration within Adobe's Experience Cloud. It was as rich as it was frustrating because it clearly was impossible to grasp all crusty informations he had to give. The room was full, the content delivery very dynamic.
It laid the path to Salvador Molares Olaso ( Adobe Experience Manager), who handled hands on exercises using a public repo to let the audience get a first hold on the matter. It was a different kind of talk and all the non technical people left the room as if, all of a sudden, an opportunity needed them outside in the partners hub. As some left, I was still digesting Martin's intervention, feeling the dire lack of opportunities to dig into all these new informations throughout the day. Where was the talk dedicated to us, naive #lessadobeversed users?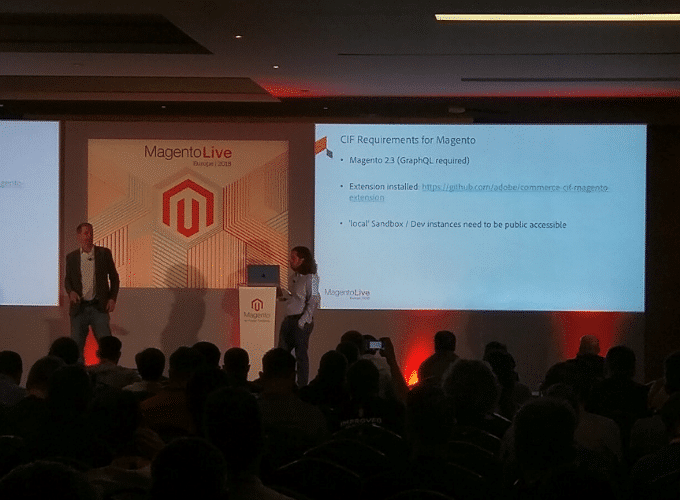 Still, I managed to get a couple of ideas. Magento Cloud blends within Adobe's Experience Cloud through an integration layer – something the editor felt the strong need to insist on. In short though the takeaway is that Magento Cloud will use Adobe's Commerce Integration Framework, which consists in a set of microservices and APIs that are extendable at will, in order to get the best out of Adobe's products.
Four products were to take notice of : I/O Gateway, I/O Events, I/O Runtime and I/O Console. Interestingly enough only the Runtime was really talked about. It allows serverless integration of custom code within the cloud's environment, thanks to what was referred to as client's namespaces meant to bundle packages.
Indeed, citing nodejs and javascript ecosystem, Adobe is willing to provide functionalities embedded as packages within version control. To my utmost frustration this part of the presentation was rushed, preventing us from getting a stronger grasp on what's to come on Adobe's Experience Cloud with Magento. Yet, as the first talk of the morning, I expect a follow up the next day.
Debriefing at the end of the day I could finally shed some light on those cross functionalities Adobe could enhance Magento's experience with. For those who were not aware / not there / not really into it, Adobe has worked on a various set of tools meant for online advertising. These tools are bundled within Adobe Experience Cloud and are split between three core angles : analytics, advertising and marketing. Note them.
For those unfamiliar with such material, in a nutshell, they open access to data registration on a wider scale and relentlessly put smart tech to work to better target customers. Online ad to its finest. What does the customer want? What does he need? What is he looking for?
Adobe Experience Cloud and the like aim at targeting not just broad audiences but also very specific, personal profiles. As stated in the keynote later, Adobe's mission is to make every experience personal. Magento's mission is to make every moment shoppable.
The Digital Commerce team is made up of Digital Commerce experts in B2C and B2B: technical experts, UX and Design, Project Managers... Everyone contributes to the success of your online commerce projects in a proactive and innovative way.