Un Jour Ailleurs
UX/UI redesign. A project rewarded with a Silver TopCom in 2018.
The client's challenges
New brand positioning and quality upgrading
Un Jour Ailleurs is a high-end ready-to-wear brand with 180 stores in France. Our UX design agency located in Paris supported the brand in its strategy to move upmarket and increase its online revenue.
UX/UI redesign: a three-step design method
User searches
via heat maps and recordings
Via our tracking solutions to understand how visitors navigate on the Un Jour Ailleurs website.
Workshops and UX construction
through wireframes allowing to define user paths
These workshops make it possible to prioritize the functionalities to be implemented, and are justified by the data from the research phase.
Desktop and mobile mock-ups
to build the new online brand image
In parallel to the wireframes realization, our team of UI designers started the graphic research phase through moodboards, then the mock-ups of the new site.
Esprit couture - Couture spirit: strong brand values
Brand universe
Design of moodboards focusing on the brand's new values
The Un Jour Ailleurs company has implemented a new concept store for its network of shops. More modern, elegant and luminous, it highlights the collection and reflects the codes of the "New Couture Spirit", a signature of the brand: back box with spools of thread, a catwalk, a fitting room…
Colour universe
To sublimate the website's visual displays, a gentle colour scheme has been applied.
- A colour scheme with a range of natural shades including a palette of natural, light and beige tones.
- Secondary shades with pastel effects, contrasts and graphic patterns.


Visual guideline
Our creative director has implemented a visual guideline to be applied to the various graphic blocks.
With unstructured compositions allowing to dynamise and give rhythm to page layout, all the while highlighting the thematic patterns of each collection. The idea is also to obtain an editorial aspect, in the likes of a fashion magazine.
Results
+10% Increase in natural traffic
+15% Increase in online turnover
+18% Increase in dektop/mobile conversion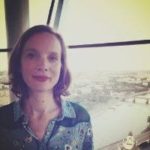 Digital Marketing Manager at Un Jour Ailleurs
When we went upmarket, it was essential to overhaul our website which was a bit older and did not stick to the expectations of our customers became more digital over time. With Kaliop, we focused on a work of evolution regarding design, navigation and conversion. Kaliop teams have therefore proposed to overhaul the architecture of the home completely, highlighting more editorial content, based on visuals more present. During workshops, we also exchanged on how to bring smoother navigation, through more advanced filters that are more relevant to customers, and reducing the number of clicks when ordering. The new site is a great success; traffic has increased, the bounce rate has dropped, and has been very well received by our most loyal customers!