Digital commerce
Cloud & DevOps
Magento, Adobe and the Cloud: feedback on Magento Live 2018
by L'équipe Commerce Digital 18 October 2018
For three days, the entire Magento community gathered in Barcelona to discuss the future of digital commerce. On the agenda: many conferences, networking and of course announcements.
A full event about Cloud technology
Kaliop Digital Commerce, as a privileged Magento partner, was silver sponsor of the European event. The Magento specialist agency team was there in full force. We were able to advise e-merchants, but also to exchange with our partners offering the best solutions dedicated to digital commerce platforms. Of course, it was also an opportunity to get a preview of the latest Magento 2 news.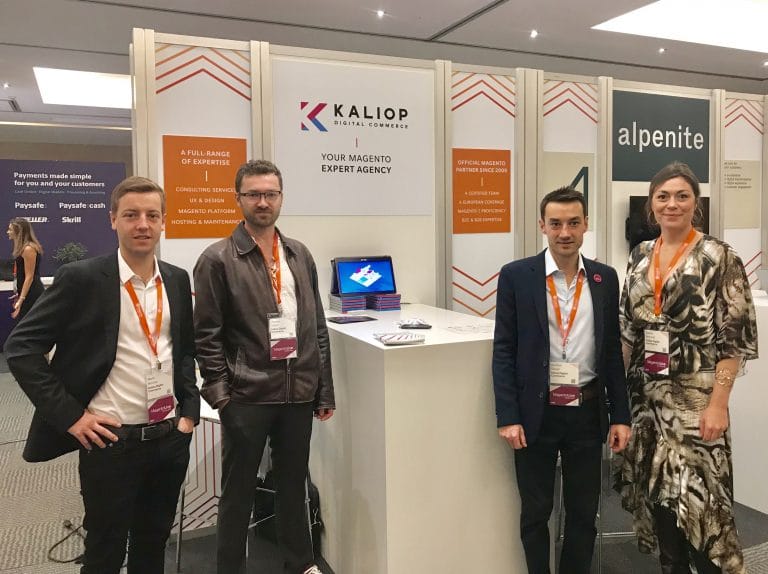 Magento Live 2018 held in Barcelona had quite some focus on cloudy issues. Since the absorption by Adobe means Magento is now part of a very vast new ecosystem, it does make sense and as expected, the topic had to be reviewed under different lenses. A series of several talks covered the theme, addressed to Magento core users, Adobe's core users and helping them meet up somewhere in the process, hopefully.
Thomas was able to attend many conferences and acts for us as a journalist. He offers us a series of articles which will be published in the coming weeks. You will discover a lot of information about the future of Magento. And we start now with a review of the technical track "Implementing a Project Effectively on Magento Commerce Cloud".
Magento Cloud : how to with engineers
The journey through the cloud started on Tuesday 9/10 at 9 o'sharp in the Palau de Congressos de Catalunya – Sala J, where most of the tech was technically presented. Magento experts Nadiya Syvokonenko ( @syvokonenko ) and Billy Gilbert ( @billygilbert ) teamed up to deliver a technical talk on how to get the most of your Magento Cloud installation. They explained a very straightforward workflow for deployment and then delved into configuration specificities and the use of appropriate hooks, emphasizing the importance of properly understanding the order in which things should happen: moving from a vision of details to a global perspective.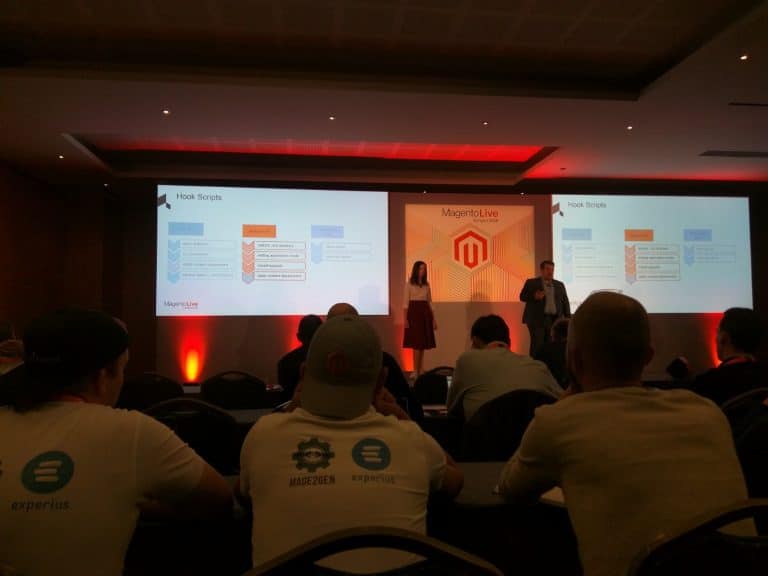 The talk was informative to get newcomers on board and showcased continuous integration functionalities and processes that can be thoroughly customized through aforementioned hooks. Leaving the room, they made a clear promise to guarantee a shorter deployment process and better support including:
Continuous improvement: aggregation of logs for troubleshooting and problem solving;
Technical contact dedicated to the partner during the launch phase (Technical Account Manager);
New chat channels: Slack channel #cloud powered by Magento Cloud Engineers and a set of open source tools for the Magento cloud (ece-tools).
Magento teams work hard on greasing some gears and each team is fine tuning their own projects (details in a separate article). That was a class..
The Digital Commerce team is made up of Digital Commerce experts in B2C and B2B: technical experts, UX and Design, Project Managers... Everyone contributes to the success of your online commerce projects in a proactive and innovative way.