Digital commerce
Cloud & DevOps
MagentoLive 2018 : the Clouds and the vision
by L'équipe Commerce Digital 13 November 2018
Feedback from Magento Live Europe – 4th part
The future of Magento inside Adobe ecosystem
I left the talk as thrilled as I was puzzled. Nadiya and Billy's duet showed how easy it was to get on board with Magento Cloud, Martin and Salvador introduced Magento's integration within Adobe's ecosystem and Isaac outlined the concrete perks of working with AI. It all gave ideas and raised questions, some of which found answers during the first keynote.
At 14 o'clock we all gathered in the Auditorio, the Palau's biggest room that gobbled up effortlessly the 1850 attendees of the event. The sound system's speakers wailed some loud music while a couple of dancers stepped in, gathering all attention and making sure the audience was focused – and unable to communicate. Brian Green, Head of EMEA Sales, opened the keynote with an umbrella and a couple of jokes related to the rain that was heavily pouring outside and inside of the Palau.
He started by thanking the community and the sponsors before mentioning how Europe is an important partner to Magento through key numbers and then welcomed Adobe. Mark Lavelle took over, as CEO of Magento and led the rest of the keynote, later inviting Shantanu Narayen, CEO of Adobe, to the stage to share some thoughts on the acquisition.
The message narrowed down to a couple of ideas is that Magento is not going to really change in itself. It will carry on its path but now with the support of all Adobe has to bring to the table, meaning their various products and tools but also the work culture ( Adobe advocates design thinking ) and experience.
They explained as well how Magento and Adobe met on their common interest for the cloud and their shared strategy of focusing on a large spectrum of customers. They are as much interested by the lone, isolated customer than they are by the bigger companies, and to emphasize on this need to keep it that way, they really promoted the integration of analytics within Magento's mechanism.
The idea is to keep the consistency of relevant services through a personalised omnichannel working in immediate and frictionless process. That last sentence was crafted using keywords many different speakers hammered during the event.
Magento and Experience-driven commerce
The event carried on the day after but I've only attended one talk focused on the cloud – and I was definitely not the appropriate audience. Errol Denger was the speaker, the job title says a lot about what was about to go on.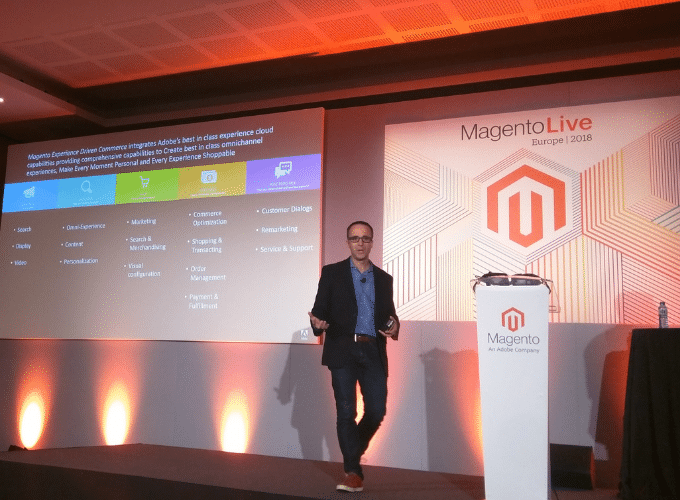 For the next thirty minutes he reviewed a dozen of tips to explain how to make Experience driven commerce, here are a selected few :
Work less with personas, think more micro-segments.
Behavioural data and partners' insights will help you better design and transform the customer's journey.
The customer's journey starts outside of the website and goes beyond the checkout, up to re-ordering
Promote simple solutions to complex problems
Customers demand curated content : too many choices reduces enthusiasm to buy by 90%
As Adobe's Director of Strategy & Product Marketing, all these tips were supported by dedicated slides promoting Adobe's solutions, one in particular as you'd expect by now : Magento Commerce Cloud, which is now joining Adobe Experience Cloud.
At the end of the event, belly and brain bloated alike, here's what to remember : Magento is going full cloud and analytics with the help of Adobe's already successful products. It does raise questions as to how Magento might be sold now – remember Adobe's other products changes in selling strategy. AI is a major focus and if you want to yield Magento's newly acquired full power, you'll need to get in real touch with Adobe Experience Cloud and its array of microservices and APIs.
Last but not least, there's a before and there's a now and the entire point of the event was to get the sharpest notion of the changes the acquisition is bringing. And that, faithful reader, is how Magento married Adobe, asking the community to still be friends.
The Digital Commerce team is made up of Digital Commerce experts in B2C and B2B: technical experts, UX and Design, Project Managers... Everyone contributes to the success of your online commerce projects in a proactive and innovative way.